Before reading on, be sure to read our short tutorial on What Tor is. Clicky

So you've decided that you want to use Tor with Polipo to surf anonymously in the Opera Web Browser. In this short, beginner's tutorial we'll show you how to do so.
First things first, you'll need:
And you'll need to download (and install) Tor. Check out the screenshot below, and then grab the "Vidalia Bundle" as shown below, from this link. Clicky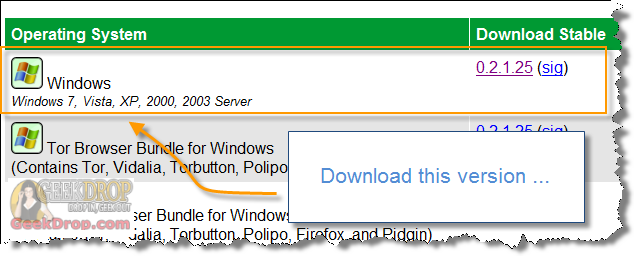 Just make sure to check all of the boxes in the installation, and let it install. (You probably won't need to choose the option to let it start with Windows, but that's your choice).
Once you've got everything installed, run the "Vidalia" program. Once it connects, it silently loads Polipo in the background. You'll see the icon in your system tray first turn Yellow as it's connecting, and finally Green once it's actually connected to the Tor network, as shown below:

Once it connects, the next thing you'll need to do is start Opera (if it's not already running), and goto your Opera Preferences. Once on the Preferences screen, click on "Advanced", and follow the screenshot below as to what to enter and select: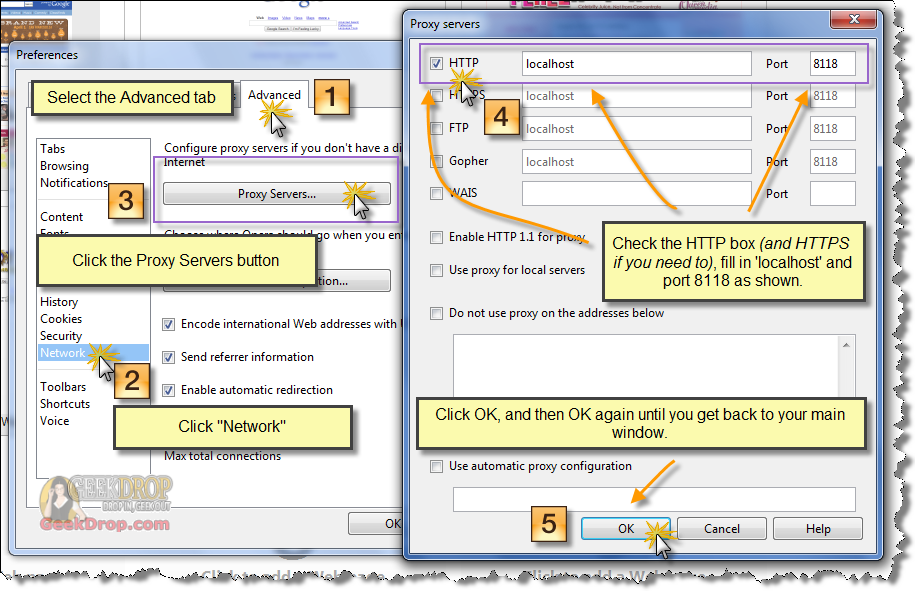 You are now connected using the Tor network! Polipo is set by default to use port 8118. If you've changed it or it's different, you can just enter that Port here instead.
The first thing you'll always want to do after connecting is to go to an IP displaying website, to confirm that you're connected to Tor and anonymous. I prefer using
IP Chicken
. Also, see our "
How To Do I Find My IP Address
" thread.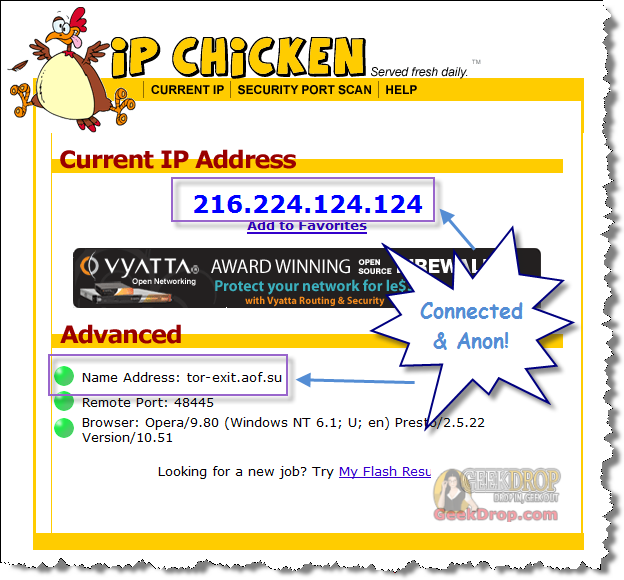 Some tips:
1. You may (often) notice that some websites show up in different languages while using Tor. This is because some of the nodes (people) are living there! And you're going through them (the end node is from there), so it returns the website page in that language. Either you can tough it out and try to figure which buttons do what, or you can change your "Tor Identity" and hope you get a new IP in your own language.
Changing your "Identity" fetches you a new IP address each time you click it, it may or may not be a faster or better connection.
2. You may not be able to get to some websites. Tor has alot of people using it's anonymity to abuse websites. In return, some websites block Tor users, or any user who is on a proxy. when this happens, a page may just seem to hang forever, or you may get some sort of notice or error message.
3. To disconnect from the Tor network, just right click the Tor icon in the system tray, and choose "Stop Tor" or "Exit".
4. Tor has plenty of configuration options that you can play with and tweak. We have shown you the basics on simply how to get up and running on Tor with Opera. Feel free to play around with the settings!
5. You may want to try using Tor with Opera and Privoxy (or other ways) as well! Be sure to either click the links below, or search/surf GeekDrop for our tutorials for beginners on how to do so!
6. To go back to using Opera without Tor, just use the shortcut shown in the screenshot below. You can easily toggle your Tor / Normal connection.
And that's it!, Happy anonymous surfing!
---
Read More ...
---