So I've been on the National Do Not Call list since it was created and as far as I know, only Political and Surveys are allowed to spam you with unwanted calls regardless of it (which I still don't understand: when you don't want calls from anyone but family and friends, or similar, then you don't, period. But that's a different discussion I suppose.), and yet the Salvation Army, the number 847-662-7730 in particular, still bombards my house (2 different phone lines) with unwanted calls ...
A disclaimer: I support the Salvation Army and all that it does and stands for, but I have multiple Salvation Army "stores" within a 5 minute drive, and one within walking distance, along with multiple drop off points, so I don't also need my phone ringing asking for donations. I don't mind making the short trips to drop items off myself once in a while.
I've tried:
Verbally asking to be removed from the list once when answering a call.
Emailing the contact email address on the Salvation Army's website asking how to be removed with the same explanation mentioned above. Never got any reply back of any sort.
Adding the phone number to a Call Zapper on my computer. You'd think they'd get the hint after a couple of zaps, but as you can see from the call log (a much shortened version, and only from a single phone line), they uhhh ... "don't" ...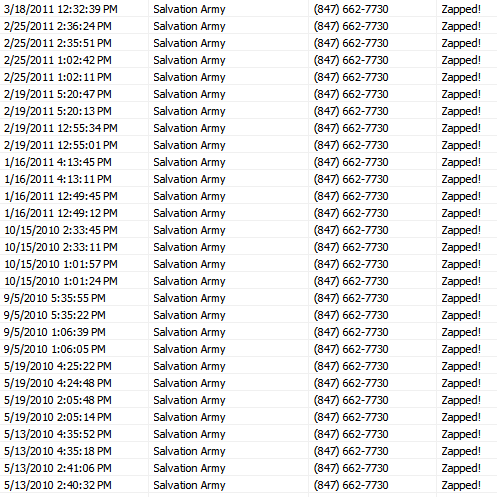 I'm about to go postal,
... they're arse annoying as any other telemarketer.
---
Read More ...
---