While we're certainly not the first to complain of this, we've seen it countless times in other peoples' statuses, it's happened to us finally (is it becoming inevitable for every Facebook user?). We have a fan page where we sometimes post pictures in the gallery of some of our GeekDrop verified members (with their approval), one of them was GeekDrop member Countryman, who don't let the name fool ya, is actually all woman. Upon logging into our Facebook account today we got this popup message before we were able to get to our newsfeed: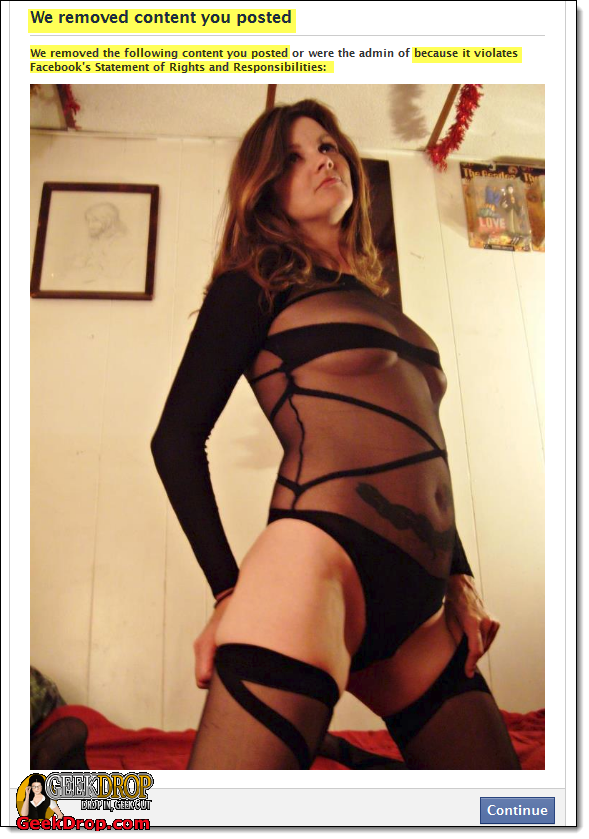 An example of unnecessary Facebook censorship? - The Banned / Removed Image

Clicking the Continue button leads to this page, encouraging you to Review Facebook's Community Standards


Finally, you are led to theirCommunity Standards Page itself.
Now, in our opinion, while we have particular attachment to that one picture, there is absolutely no reason that image should've been removed, with a threat to clean up our act or our Facebook account may be removed or no longer "in good standing". No nipples, no genitals, and not even a naked butt is being shown in that image. Does that image look like "pornography" or even "nudity" to anyone? You often see girls in thongs all over Facebook who's poster's do not receive the same warning and removal. In fact, that image is no worse than seeing a woman in a bikini, which again, you see all over Facebook with no issue. Is it because it's done in a "sexy nature"? Again, that image is no different than say for example, an image of Lindsay Lohan, or any other celebrity, posing seductively, without being nude at all, however, if the nudity is not flesh and blood, such as a statue, or (and we're not opposed to this either) a baby is attached to the naked breast, it's more than welcome to be plastered all over Facebook?
We're not claiming that we feel singled out or persecuted by Facebook, it's happening to hundreds or possibly thousands of users. It's our feeling that Facebook is overextending it's strong-arm position, and limiting people's Freedom of Expression (within limits of course) solely because they can. In fact, this is blatant, unnecessary censorship. America is willing to go to war, lose American lives, and kill others in other countries such as Iraq because "we" feel that they're not "free" enough and being over-controlled by their government, yet, if and when they eventually do become "free", just be sure not to post a picture of yourself on Facebook in what amounts to as far as what's visible, a bikini or your underwear.
Do you agree? Disagree? Have any more examples? We want you to post them!
---
Read More ...
---