aLaunch/aLunch
is a cool little program you can set up to launch any of your applications and/or file folders and is accessed by the status menu on your Mac.
aLaunch/aLunch helps to free up your dock and does a great job of hiding files and folders from plain view. In the preferences for aLaunch/aLunch you can set up folders, as I have done below and then include in those folders the applications you want to access from aLaunch/aLunch. You can also access any file folder on your computer in the same way.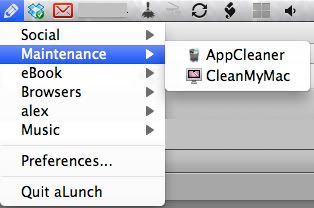 aLaunch/aLunch is very easy to set up and use and has an impressive list of options and preferences and is a free download.
aLaunch/aLunch is available for download at the sites listed below.
How to use aLaunch/aLunch available -HERE-
---
Read More ...
---