How To Check Your Comcast HDTV Cable Signal Strength
Sometimes you may need to know what kind of signal you're getting to your Comcast CableBox, to help diagnose if you have some sort of problem. Maybe a loose cable, or whatnot. Here's how to do it.
Note: This is for the Comcast Digital HDTV Cable Box (Model DCH3200) (Fig-1). Most likely it will work on other models though.
(Fig-1)
To acces your Diagnostis screen start by turning your cable box off with the remote control and immediately pressing the "Ok / Select" button (Fig-2).
(Fig-2)

You'll get a screen that looks like the following, you'll want to press the "OK / Select" button one the 2 highlighted options (Outband and Inband Statuses) (Fig-3):
Once inside the Inband Status screen
(Fig-4)
, look at your "SNR" (Signal to Noise Ratio). It'll say something like "Bad", "Good", "Fair", etc., to exit the screen just press the "OK / Select" button again.
(Fig-4)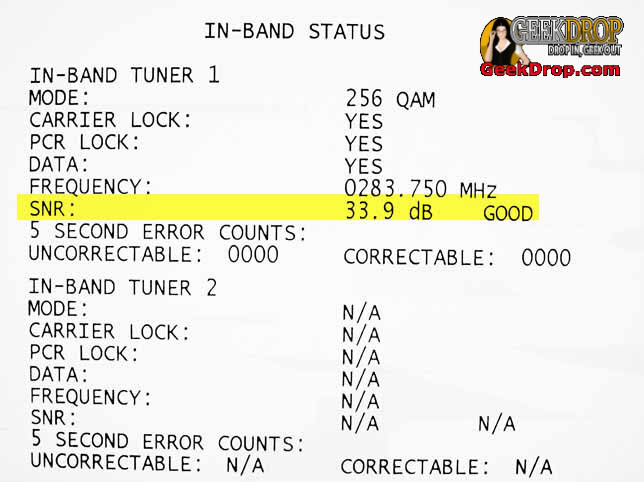 Now, go into your "OOB" (Outband) Status screen, and do the same thing
(Fig-5)
(Fig-5)
You don't need to go into the screens in the particular order mentioned in this tutorial, just as long as you take a look at them. You generally can't screw anything up by looking through all of the screens so don't be intimidated.
If you get any other status but "Good", start by rebooting your cable box (Here's how). Still the same? check all of your cable connections, particularly the coax cable and any splitters. Beyond that you'll need to call up Comcast.
---
Read More ...
---