Have you ever received an email that had you wondering if it was real or who its really from? Want to know how to get an IP Address from an email? Well one way to narrow down an email is to check the internet headers in that email.
I logged into my office email to check it and
now I'm getting spam email that has a facebook domain. I had 3 emails from a "[email protected]" one was selling Viagra pills, one selling fake watches and one that was a "dating" type email (she was from Russia) haha .
So curiosity got the best of me, who is having fun? One way to check an email is via the internet headers. Let me show you how to do that. To check the headers is pretty easy. Here is how
on yahoo: right click on the email > choose "View Full Headers"
Once you do that you can then see the email headers. This will show you the information on who sent the email. If you look for the "Received From" or "X-Originating-From" you will see their IP address. For the one above (which was spam) it showed:
Received: from 78.97.204.155 From there you can copy the IP address and run it though MaxMind: CLICKY that email came from Romania, which throws up red flags that its spam.

On gmail the far right of the email drop down the right after the reply > click on the "show original" and it will open it in a new tab:
In the new tab you will see something like this: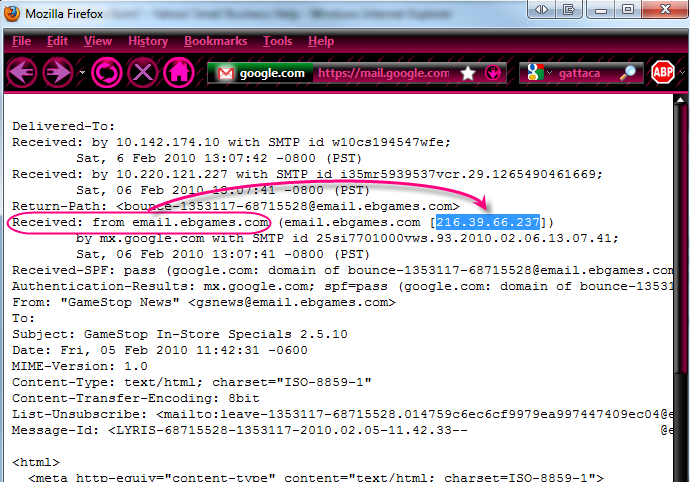 Look for the "Recieved: from"
Received: from email.ebgames.com (email.ebgames.com [216.39.66.237])
So when I ran that IP on Mindmax it showed it did come from gamestop and it was a real email: CLICKY
Ok, so you read this and your trying to figure it all out and still can't, well no worries, you can go to Trace Email Sender and simply paste in the headers and it will do the work for you!
If you want to run them yourself, then I recommend MindMax for tracking the IP addresses.
Now, I will say that if they used webmail to send it out then there is a good chance you will trace it back to the webmail provider. So, if your email shows up like these do: Gmail, Yahoo, Hotmail then they used webmail.
---
Read More ...
---