Scan Barcodes & Have The Music, Movie, Game, etc. done by the time you get home - TransDroid Android Torrent App
Here's an awesome torrent managing and searching Android app that's worth it's weight in gold - and even better, it's totally free (ad supported). Imagine the day when you'll be able to use the camera on your phone to scan those bar codes you see at the store on the backs of Video Games, DVD's, Music CD's etc., searching to see if there's an existing torrent for it, and if so adding it to your home Torrent downloading program, all while you're right there at the store?
Well. that day has arrived GeekDroppers, and it's all possible by an Android app that made the GeekDrop "Cool As Sh*t list" named Transdroid.
There are a couple of pre-requisites before you can begin using Transdroid though. You hopefully already know how to download torrents, (and need to have uTorrent installed on your computer), if not view our tutorial on it right here: How To Download Torrents. You'll also need to install or already have installed some sort of scanning app on your Android. Our favorite is QR Droid. So let's show you how to use Transdroid, shall we? Follow along below ...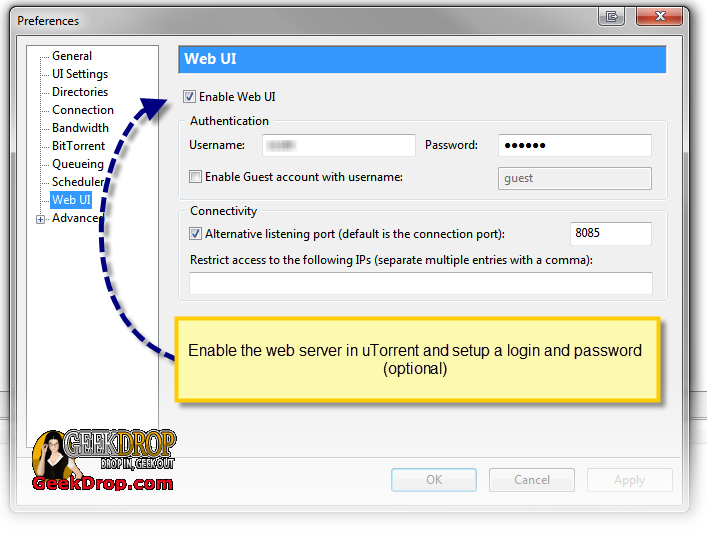 uTorrent
- the Torrent Download Manager that runs on Windows has the option to start up your own personal little built- in webserver, that you can log into with any web browser and view any torrents you have downloading, uploading or stopped, and all the usual statistics you would see right within uTorrent if you were in front of the software program itself. Useful if you want to start torrents or view their states when not at home. In order to use Transdroid you'll NEED to start the server or else the app is essentially useless. So fire up uTorrent, Goto
Preferences | Web UI
and check the
Enable Web UI
box. Enter in a login and password as well, the rest you can leave at their defaults unless you want to play with those too. If you run a router most likely you'll need to forward the port shown to your computer or else the traffic won't make it there. And if you run a firewall you will probably also need to make sure to let either uTorrent run as a trusted program or allow traffic on that port.
Once you've got your uTorrent server up, running and able to be connected to, add that information into Transdroid's Preferences. From then on out, you can use Transdroid to do your standard torrent searches by clicking on the Magnifying Glass and searching, as shown in the screenshot above ...
Or best of all, click the Menu button and then tap the "Scan Barcode" button to bring up your phone's scanner software.
You can then simply scan any barcode out there, just as an example, say you are at Best Buy
and you see the game named "Mighty Morphin Yu-Gi-Oh Cabbage Patch Troll Lego Kids" and want to see if there's a torrent available for it. Just scan the bar code on the package, Transdroid will do a torrent search for it, and return any matching results, if any. You can then choose if you want to add that torrent (or torrents) to your home uTorrent server. If you do, and there are seeds, and so on, chances are you'll have it sitting there waiting to be played once you get home. Srsly, how slick is that??
Of course, you don't HAVE to use the scanner, doing a regular search you can also add any torrent matches to your home uTorrent server as well. There's also a built-in RSS reader that you can add your favorite Torrent newsfeeds to. Now do ya see why Transdroid made the GeekDrop "Cool As Sh*t" list?
Download it here: Transdroid Torrent Download
Or Scan it's QR Code



(Update: According to the Transdroid website, as of this update Google has removed Transdroid from the market, so the QR Code MAY not work. It is still available on the app's homepage however)
Disclaimer: Torrents are and have always been a matter of option; you choose whether you download legal or illegal software. GeekDrop isn't recommending or suggesting that you download anything illegal, we are simply describing an app that has the ability to do right and/or wrong. Anything you do with it becomes your responsibility and/or liability, not ours.
---
Read More ...
---