How To Set Up Dual Monitors - A Tutorial For Newbies - Easy As 1-2-3
Really the most expensive part of setting up dual monitors is the cost of the second monitor. I've had dual monitors for about two years and I
love
it. Not only is it fun but if you're a multi-tasker like me its awesome, and who isn't nowadays? I can get so much more done having them, not only work-wise, but personally as well. So here is my set up at home: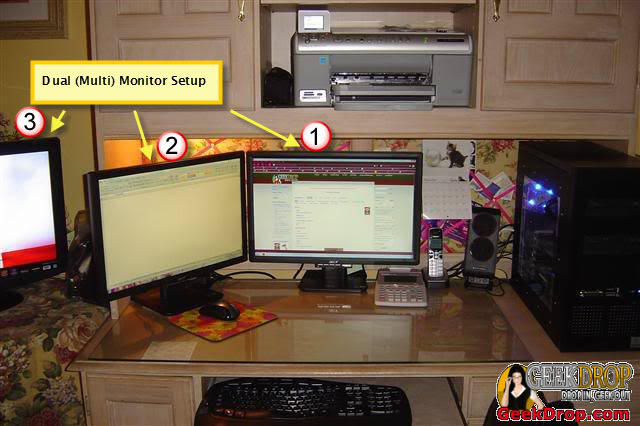 This is where I brag, I have 2 Acer 22" widescreens so I'm almost 4 ft. of monitors. The picture shows generally how you can find me, office work on the one side and play on the other. The nice part is say I have a large excel spread sheet - I can stretch it across both screens.
So how can you set up your monitors to go dual?
Well first thing you need to do is look on the back of your computer. When you look you will see one or more of these:
This is D-Sub.

D-sub is an analog connection that you will find on most older computers. Most monitors nowadays still have D-Sub connections on them too.
This is DVI.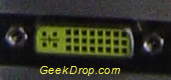 DVI is digital and you will find this the standard on most computers nowadays. DVI is a much better connection than D-sub and is the preferred connection of the two for the main monitor, at least.

There are also HDMI (High Def) and Serial ports on some newer graphics cards.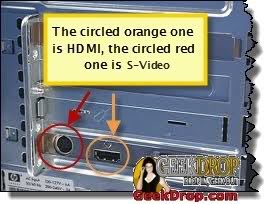 HDMI is the best out of all choices. If you have an HDMI port on your graphics card, definitely use that one as your main monitor's connection, and use DVI as your second monitor's connection (if possible).
Now some computers will have it already set up for dual monitors. If you see this on the back you know you are:

(It's important to note, that as long as you have more than one type of connection on the back of your graphics card, you can use any combination of them to run dual monitors. For example, if you have an HDMI port, a DVI port, and a Serial port, all on the back of one graphics card, you can use any combination of the 3 to run dual monitors. they don't need to both be the same type of connection, or any one type in particular; they all will work, it's just a matter of visual quality.)
Here are pictures of my tower: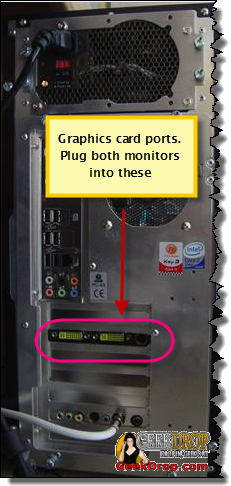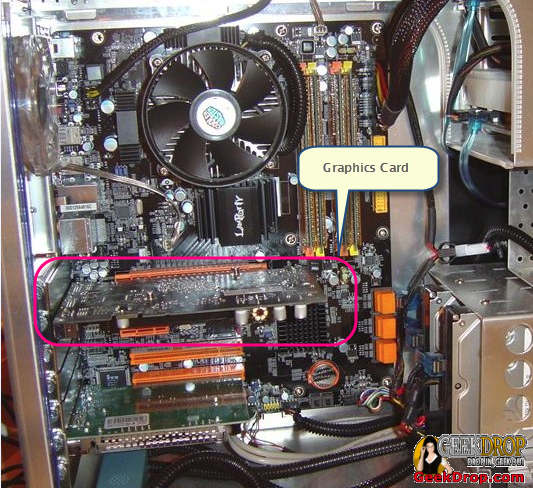 My tower has a video card in it (see pic on right) that allows dual monitors with 2 DVI hookups.
OK, so what if your tower doesn't have that? Does it mean you have to add a
Video Card
(
some use motherboard on-board video and have no card
)? No, you don't. If you don't have this, or any other combination of ports (
see note in red above
), then you can get what they call a
USB Graphics Adapter
that looks like these: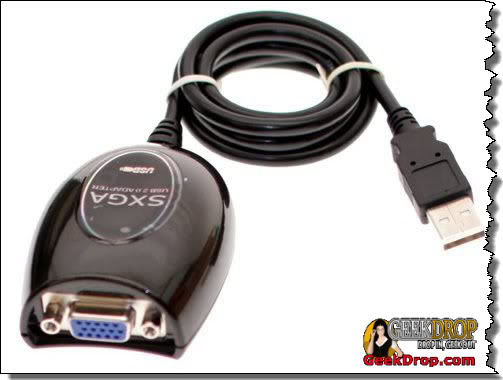 or
With a second monitor its not a
must
to go DVI, you can use D-Sub, or any other connection type we mentioned and be just fine. If you get a USB graphics adapter you simply hook it up to your computer via USB and now you have two monitor hookups!
Now, once you have 2 different places to plug your 2 monitors into, simply hook up both monitors up, each into it's own port (plug). After you do that you'll need to go into your computer's
display settings
and you'll see this:
For Windows XP and Vista it will look like this: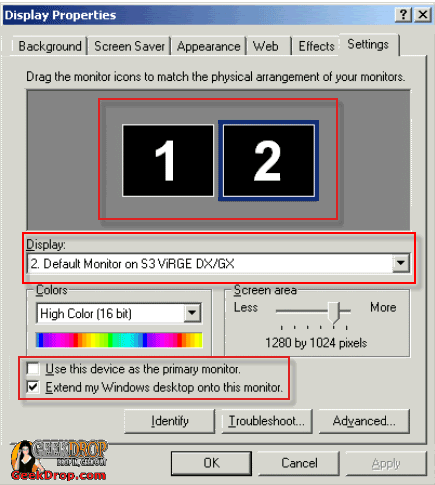 In Windows 7 it will look like this: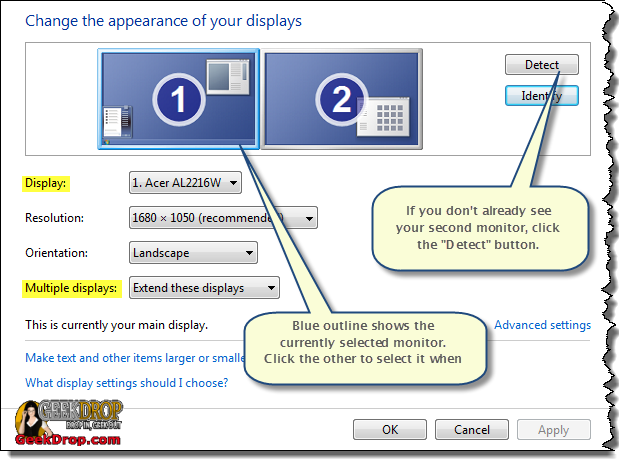 Now regardless which OS you are using you want to "
identify
" the monitors (see below) to make sure you know which is your main monitor, and which is your second, and you want to go to the
advanced settings
to make sure they're setup the way you want them to be - tweak the rest of the settings to your own needs.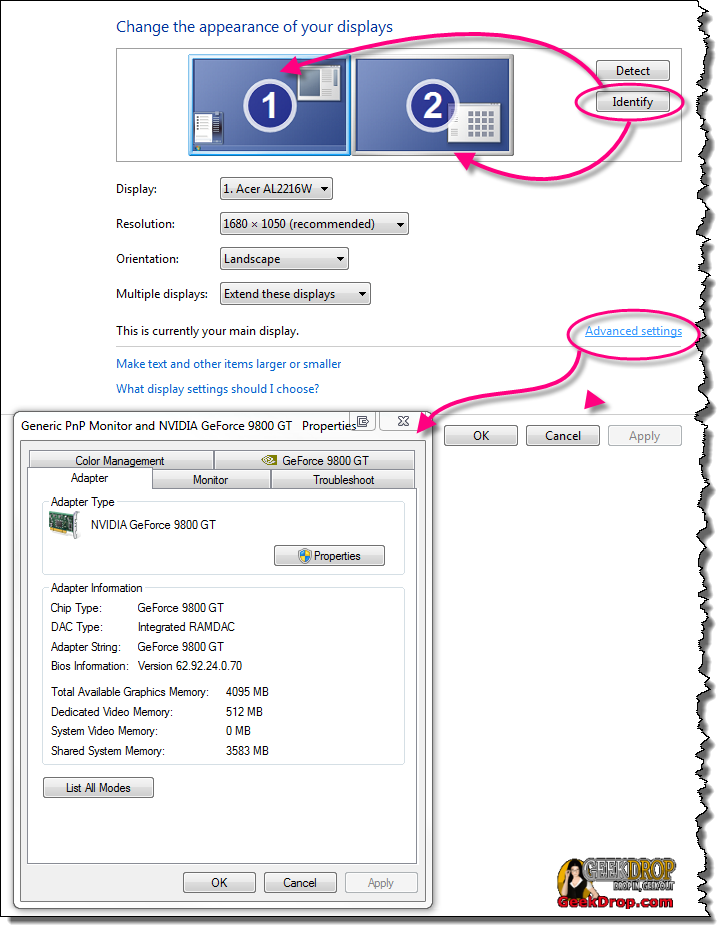 When you "
identify
" them you will see numbers across your monitors to show you which is which

if it identifies them wrong, then simply switch the monitor cables in the back of the tower.
Now if you do decide to go dual monitors then let me let you in on an
awesome
program called
Ultramon
. It has a bunch of nice little features for multiple monitors (more then just duals but also triple and quad monitors as well). I use Ultramon and I love it! A few of the perks is the way it allows you to play with your wallpaper and screensavers (different wallpaper and screensavers for different monitors), but the
best part
is the buttons it adds to the top of each window, next to the normal Minimize / Maximize buttons:

The click of one button and I can expand one monitor across both monitors so it acts as a single monitor, or I can pop that window off the current monitor and onto the
other
monitor. You can read more of the benefits of ultramon, and get it
HERE
.
If you have any more awesome tips, trick or hacks for dual monitors, please post and let us know! If you have any problems or questions setting them up, that's why we're here! Ask away and someone will help you! :D  
---
Read More ...
---