When fonts go bad or corrupt on your Mac they can cause all sorts of problems like shutting down your graphics program when you select that particular font.
All Mac's come equipped with an application called Font Book. To find out which fonts are good and which ones are bad we can run the validation option available in Font Book.
To find Font Book, open up your Applications folder, find Font Book and double click to open it.
The Font Book lists all the fonts that are installed on your Mac.
To validate one or more fonts:
1. Select the fonts you want to validate from the list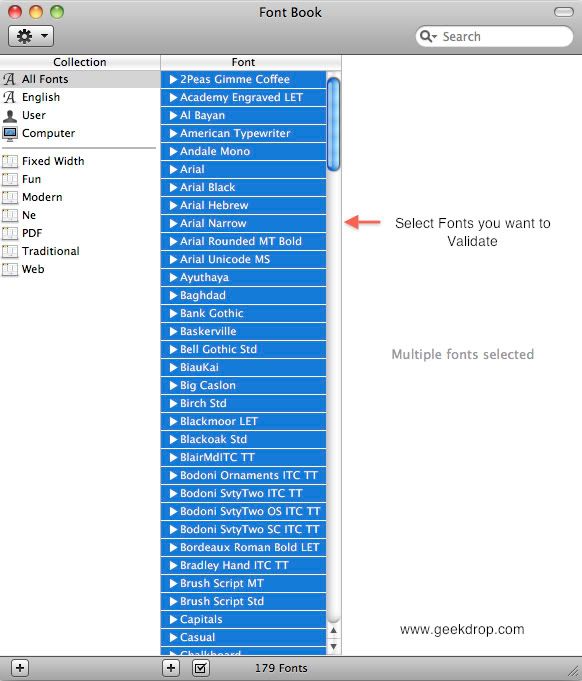 2. Right click on your chosen fonts and choose "Validate Fonts" from the File menu.
3. A "Font Validation" window opens and shows the results of validation. A green check mark indicates that font passed validation. A red x beside a font tells you there is a problem.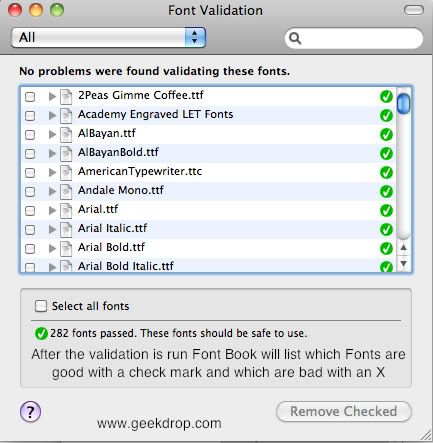 If you do find a problem you should delete these fonts:


How To Delete Fonts
Check the box beside the corrupt font in the "Font Validation" window.
Click on the "Remove Checked" button at the bottom of the Font Validation window. An alert appears. Click to confirm, and the fonts are deleted.
---
Read More ...
---