How To Automatically Logon To Windows 7, Windows Vista or Windows XP
Like many home Windows users, you're the only user on that computer and you don't like having to enter your password to finish booting up Windows, (assuming you even have a password that is, even without a password for your Windows account you may be expected to just click on your Windows Account Icon to finish booting into Windows) or even if you have more than one person using your computer, you simply don't want or need to have to enter it. The fix is a piece of cake, anyone can do it, just follow our steps below:
The first step is to open your Command Prompt (keyboard shortcut Windows Key + "R"), and type in: netplwiz or control userpasswords2 and then click the OK button (Shown Below)
Next, in the window that comes up Select the User name of the Windows Account that you want to use to automatically login to Windows with when Windows starts

Uncheck the box that says "Users must enter a user name and password to use this computer."

Click the Apply button

On the next screen, type in the same name of the User that you selected on the previous screen

Then type in the password you use when logging into Windows with that User on the following 2 lines. (Note: If you normally just login without entering a password, then just leave those 2 fields blank).

When everything is filled out, click the OK button.
All done! From now on whenever you start your computer you'll automatically log on to Windows with the User that you chose. No more having to click on your Picture and/or enter your password to continue booting into Windows!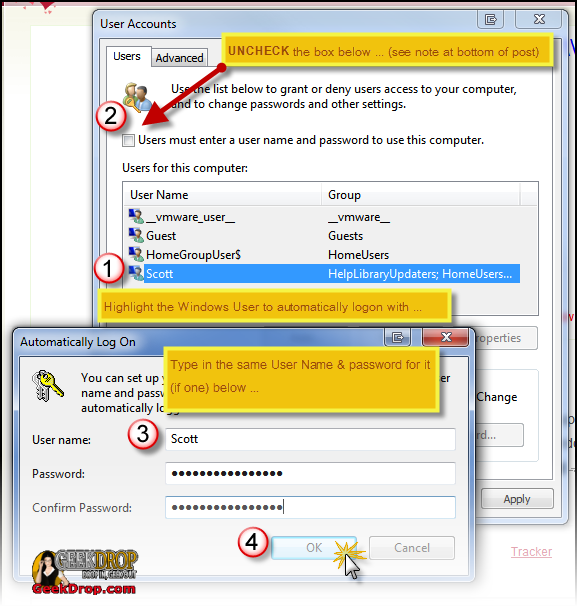 Note: There have been reports that sometimes the "Users must enter a user name and password to use this computer." checkbox isn't visible, therefore not able to be toggled. If this is your case as well, then you'll need to do a little Registry hacking to get it to show (Note: This is for slightly more experienced users who are comfortable editing their registry):
Open your Command Window again (Windows Key + "R"), and type in: regedit. (Fig 1)

Navigate to this registry key: HKEY_LOCAL_MACHINE\SOFTWARE\Microsoft\Windows NT\CurrentVersion\Winlogon

Double-click the AutoAdminLogin Key Name and if it's already at , set it to 1. If it's at 1, set it to (conflicting reports show both so you might need to try both ways) (Fig 2)

When done changing your setting click OK and repeat the steps outlined above
(
Fig 1
)
(Fig 2)

---
Read More ...
---