So you're probably like most guys (the straight ones at least) who think "hmmm, random webcam chat, ehhh? ... NAKED GIRLS SHOWING BOOBIES!!" ...
tsk tsk ...
According to Wikipedia, here are some actual Chatroulette Statistics reportedly done by independent study organizations (with my own experiences noted in blue):
200% more likely to encounter a sign requesting female nudity than to actually encounter a naked female - (or one willing to get naked)(And guess where the images & videos of the naked ones do end up? The internets! (NSFW))
89% of sessions with a single person were male - (88.9% of those males were showing Little Elvis)
11% of sessions with a single person were female - (10% of those females look like African Wildebeests. Ironically, even the Wildebeests will "Next" you if you show them your German Soldier Helmet. So I've read ...)
8% of sessions contained multiple people on camera - (a.k.a males group hunting for naked African Wildebeests)
50% of sessions connected a user with someone in the U.S.A.
15% of sessions connected with someone in France - (and I'd say the rest were all from some flavor of Asian. Japan, China, et. al., actually to ME, almost ALL seemed like they were Chinese, but what do I know, they all look the same to me)
1 in 3 females on the other end were in a group - (and from my own experience, the others in her group were usually male)
1 in 12 males were in a group - (usually other males, and maybe (rarely) one curious Wildebeest who the males think showing them schlong on the other end might get her to show her teets)
1 of 8 sessions yielded objectionable adult content (R-Rated or X-Rated) - (a.k.a. men polishing the Bishop. Btw ... try more like 6 of 8)
A user was more likely to get a webcam

showing

no people, than to get a female by herself - (and I 100% agree. To add my own stat, chances are 90.5% that the single female is a recorded video being played back by a male(s) trying to see naked lesbian Wildebeests)
Which leads me to believe that by now it seems safe to say that most males MUST know that it's about 99% men diddling themselves on ChatRoulette; for free ... not even smart enough to try selling it on some amateur pay webcam site, which only goes to show that men, by and large, and no matter their race, nationality, creed, fat, skinny, too old, too young, married, single, gay, straight or where they may be located on this planet, will look for ANY opportunity to show people, including other men, their one-eyed pocket mouse.
So if you're into watching tons and tons (and tons) of penis (and we're not talking about what are generally considered "hot" males) ChatRoulette away ... on the other hand .. if you're hoping to see girls flashing their sweater meat, you'll be in for hours and hours of "nexting" before you MIGHT get "lucky". I quotate the word "lucky" because the only 2 real, genuine wildebeests females I ever saw show sag bags on ChatRoulette were wildebeests not attractive in any way, shape or form.
Nonetheless, if you're a glass is half full kinda person, you can have triple the fun by trolling all of those penis showing douche-bags ChatRoulette-er's. You can find tons of already trolled screenshots all over the net, case in point:
Exhibit A: Pole-dancing, stripping bovine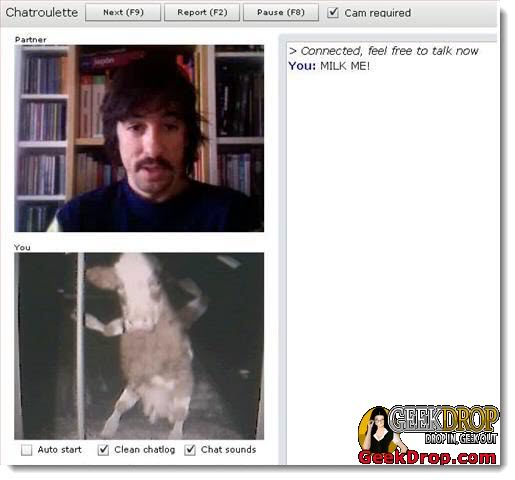 Exhibit B: Pedo Bear!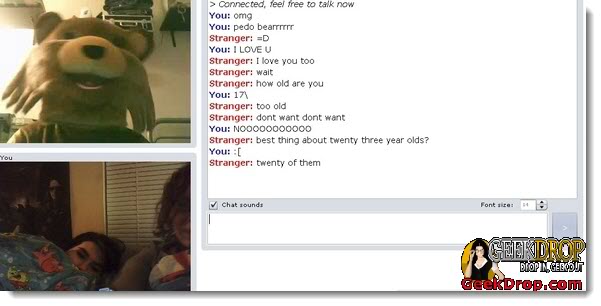 To get ya started, go here for some funny ChatRoulette screenshots. Googling will lead ya to tons more. And if you're hoping to actually see some of the few flashing girls, googling will also lead you to some websites where 12 year old boys, and middle aged married men stuck in the house to the ball n chain, who have literally ALL day to hang out on ChatRoulette until they see that rare set of lung lumps, have uploaded them to the net, as they always do.
As for me, waaaay too much penis.
---
Read More ...
---