Ever whip out that webcam, login to your fave IM service to do some video chatting and proceed to feel like you're watching an old fashion movie the way it's all jumpy. Kinda seems like the camera takes pictures in 2 second intervals rather than in live time. Pretty annoying isn't it? I know for me it's highly annoying. Well after much searching I found (ok I lie... DoGG found, but I'm posting the thread so I'm taking credit) a free program that works in REAL LIVE TIME
CamFrog also offers a Pro version which you can purchase that adds extra features such as the ability to also leave the chat windows on top, a bigger chat screen and some other things. The free version's chat screen is about the same size of all the other video chats I've used so I'm not complaining.
The program supposedly has some chat rooms also, I guess where you can video chat with lots of people... I'm not sure

I only use it to chat one on one. And if you're doing that, then you want to set your privacy setting to private. When first using the program I had people just requesting to chat that I didn't know, so I learned this real quick
They also have this cool feature, that serves no purpose except to have fun with. It's call CamFrog eyes. Right click in your video box, pick Camfrog eyes.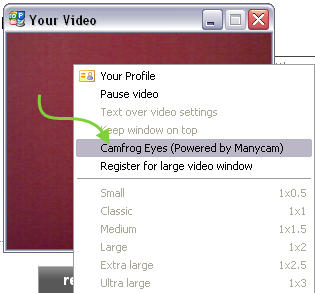 And then you look like this....
clicky to download CamFrog
Yes those things detect your eyes, and move right along with you... they get smaller as you move away from your camera and larger as you move closer. Boy did we get a kick out of this the first time DoGG I found it

Happy chatting!
---
Read More ...
---